—
Last updated on March 04, 2023
With Bacuit Bay being one of the most beautiful bays in the world, island-hopping is the main activity in El Nido. It is not the only one, but it is not an exaggeration to say that this archipelago is the main reason for visiting the island of Palawan. The bay is made up of several islands and islets, most of which are inhabited and feature luxury accommodations to enjoy relaxing holidays with incredible scenery.
However, El Nido has much more to offer and you will easily find plenty of things to do to fill your days and nights during your stay on the island. Here are some ideas; we guarantee you will not be bored!
ISLAND HOPPING
Bacuit Bay is made up of several exceptionally beautiful natural islands that you can easily explore by boat tours organized by the tourist agencies of El Nido. Four tours are generally offered (A, B, C, and D), allowing you to discover different areas of the Bay, tours B and C often being considered the most interesting by travelers.
The most visited island is certainly Miniloc, famous for its two lagoons, the Big Lagoon and the Small Lagoon. The warm and calm waters of these lagoons offer a memorable bathing scene. The islands of Matinloc and Tapiutan are other popular excursion destinations from El Nido. Matinloc looks like a submerged stegosaurus, and offers, along with the island of Tapiutan, the best snorkeling spots.
Finally, the island of Cadlao, which can be seen from the beach of El Nido, is also a beautiful island with a lagoon where you can practice snorkeling.
El Nido, the Pilippine Capital of scuba diving
The turquoise water that surrounds the islands of the Bacuit archipelago is full of marine life. With more than 30 diving sites, this archipelago is very well known in the diving world. There are dugongs, the animal that is supposed to have started the legend of mermaids, manta rays, sea turtles, and a huge number of other fish species.
From El Nido, you will be able to book diving courses, PADI trainings, and diving trips for all budgets and levels. The nearby dive sites range from 6 to 30 meters deep, offering diving experiences for beginners and seasoned divers alike! For beginners, many agencies also offer snorkeling trips, ideal for discovering the beauty of underwater life without the need to take a full diving course.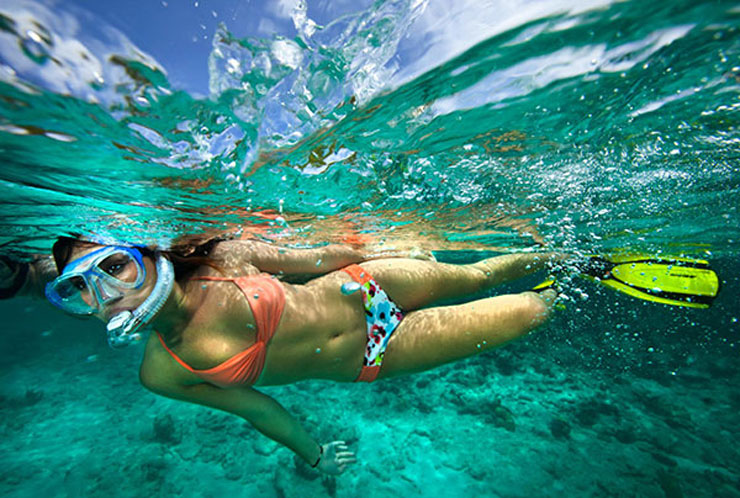 A DELIGHT FOR SPORT LOVERS
The beaches of El Nido are also the ideal starting point for a kayak or stand up paddle trip. In addition, the surroundings also offer endless possibilities for trekking, hiking, and much more.
North of El Nido is the Nagkalit-kalit waterfall and the Bulalakaw waterfall, as well as the Makinit hot springs, which are really worth discovering. You can reach them by bicycle or by motorcycle, which are easy to rent through one of the agencies of El Nido.
The more adventurous travellers will love climbing on the incredible limestone hills surrounding El Nido. These will probably remind you of the landscapes of Halong Bay in Vietnam, or Guilin in China!
A TOP DESTINATION TO RELAX
If active holidays are not your thing, do not worry. El Nido is also an ideal destination for beach lovers. White sand, turquoise water, and sun will be your ideal companions for a fully relaxing holiday.
If you are looking for culinary discoveries, you will also appreciate the delicious gastronomic scene of El Nido, where you will have the possibility to try the famous adobo and halo-halo, not to mention fresh fish and seafood.