—
Last updated on March 04, 2023
The island of Palawan, and El Nido in particular, is a popular tourist destination even for wealthy holidaymakers, or at least willing to spend a little more money on an unforgettable holiday. Many luxury hotels are located there, either in the village of El Nido itself or on different islands of the Bacuit archipelago (if you wish to invest, some of these private islands may be for sale).
Why is El Nido the perfect place for a luxurious holiday?
It's quite simple, it's an ideal destination to relax, do nothing (or at least do pleasant things that you do on holiday), relax, and this by taking advantage of a sumptuous setting to sip your cocktails between the sea and the magnificent pool offered by the most beautiful establishments. A beautiful holiday destination, El Nido also attracts more and more couples on their honeymoon for example.
Some have understood well, this ideal setting is conducive to a luxurious holiday in resorts, some of which, located on small private islands, will offer you an extraordinary comfort with fantastic facilities, inaccessible in Europe or USA for most of us, but at relatively reasonable prices thanks to the low cost of living in the Philippines.
Our selection of first choice hotels
Here are our recommendations.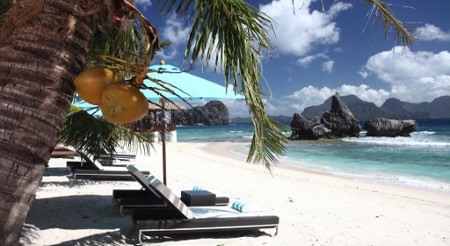 Matinloc Resort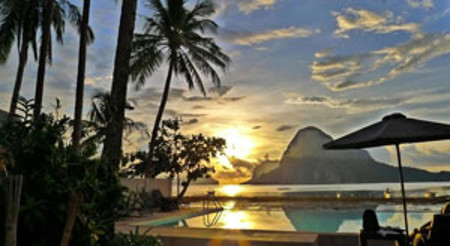 Cadlao Resort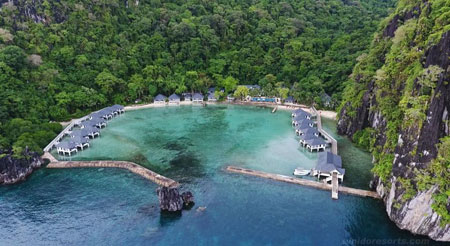 El Nido Resorts Lagen Island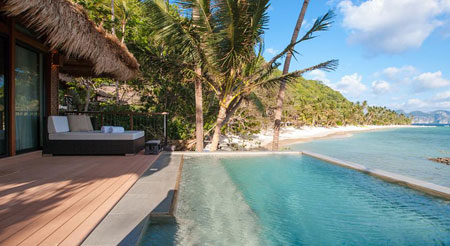 El Nido Resorts Pangulasian Island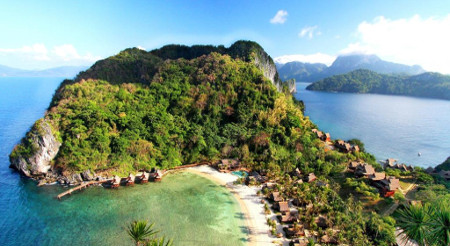 Cauayan Island Resort and Spa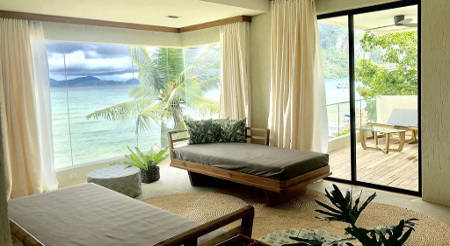 Frangipani El Nido
What type of benefits will you be entitled to?
By choosing to stay in a luxury hotel in El Nido, you can enjoy top-of-the-range services such as:
Spa : massage and other beauty and wellness treatments, the sauna,
Fitness room : to keep in shape during your stay in Philippines,
Quality internet access with wi-fi,
Leading brand bedding and the comfort of a quality mattress,
Room service that will bring you what you want in your room,
"Gourmet" food service, with chefs sometimes starred to prepare personalized menus,
Transfer by private shuttle / Taxi from and to El Nido airport,
All-inclusive stay if that is the choice you have made,
A choice of excursions and privatized activities, if you wish,
etc.
Choose where you will stay according to the criteria that are most important to you, and remember to book your accommodation in advance. In the establishments of our selection, you will have an unforgettable holiday.
If you would like a more reasonable offer in terms of price, consult our selection of accommodation in El Nido, or if you would like more peace and quiet, consult our selection of private villas for rent in El Nido.